From the desk of Dr. Kyjuan H Brown
Bermuda: Dr. Kyjuan H. Brown successfully completed the Bauman Certified HairCoachMD™ Training Program, which educates medical professionals on how to detect and monitor male and female pattern hair loss, perform hair re-growth treatments, as well as provide patients with actionable information and effective preventative treatment options.
Since early detection is key to stopping male and female pattern hair loss in its tracks, doctors are often the first line of defense for many men and women. NorthShore Medical & Aestetics Center (NMAC)is proud to announce it is the first medical practice in Bermuda to complete a national training program for early hair loss detection and preventative treatment counseling. Dr. Brown, Medical Director of NMAC recently traveled to Boca Raton, Florida to complete the Bauman Certified HairCoachMD Training Program, led by renowned hair loss pioneer Doctor Alan J. Bauman.
"The certification program provided me the information and proven treatment protocols needed to better serve my patients," said Dr. K. H. Brown. While it may seem obvious to some people how to detect hair loss, you actually have to spot it well before it becomes visible to the naked eye. What patients don't know is when hair loss becomes visible you would have already lost 50% of your hair volume, making it harder to reverse the process. My staff and I personally underwent training with a new scientific tool called HairCheck that will allow us to track our patients' hair growth and spot problems well before they become noticeable. We also received in-depth information on the latest medical treatments for hair loss, which we'll now be able to share with both new and existing patients in Bermuda."
The Bauman Certified HairCoachMD program is a intensive hands-on training class that teaches medical professionals how to identify the early signs of hair loss, answer key questions about hair loss and conduct highly accurate hair loss evaluations with the HairCheck trichometer. It is often these first informal questions that lead to the discovery of progressive hair loss while it is still in the early phases, when it can be still be treated, and oftentimes, prevented, delayed and in some cases, even reversed. HairCoachMD graduates also have access to the latest medical and non-medical hair treatments such as low level laser devices, scientifically tested nutritional supplements as well as therapeutic shampoos, hair camouflage and topical products. They can also provide patients with information about more advanced medical treatments for more severe cases.
The program, which was designed by internationally recognized hair loss expert, Alan J. Bauman, M.D., full-time board-certified hair restoration physician/surgeon who's treated over 15,000 patients and performed over 6,000 surgical procedures since opening his practice in 1997. His pioneering work in hair loss treatments has been featured on NBC Today, ABC Good Morning America, CBS Early Show, NBC Dateline, CNN, The Doctors, New York Times, Newsweek, Men's Health, O – The Oprah Magazine, Vogue, Allure, The Howard Stern Show and many more. Bauman is one of a handful of surgeons to be recommended by the American Hair Loss Association, accepted by the International Alliance of Hair Restoration Surgeons and certified by the American and International Board of Hair Restoration Surgery. Dr. Bauman is also a member of the prestigious Pantene Pro-V Hair Research Institute.
"Hair loss is a treatable condition," explained Dr. Bauman, "But the earlier the problem is detected and treatment started, the better your chances of keeping your hair. Once hair loss progresses to a certain point, it becomes more difficult and costly to achieve good results." Dr. Brown of the Northshore Medical Center in Bermuda has completed the program and would be following my proven hair restoration protocols, Dr. Bauman concluded.
Dr. Brown continued, "This added certification compliments my existing practice in General Medicine with a special interest in Dermatology. Recognizing that Dermatology encompasses the hair, nails and skin, these hair restoration protocols are well suited for my clients. Now I would be better able to diagnosis hair loss and offer treatment for hair restoration. Our NorthShore Medical hair restoration pilot program started over 6 months ago, and our test patients two of which are featured below have had excellent hair restoration results."

What is a HairCheck Consultation?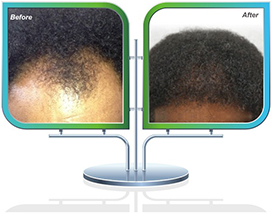 A key part of the Bauman Certified HairCoachMD program is the ability to offer HairCheck Consultations to customers. What is HairCheck? HairCheck is a non-invasive way to measure and track the amount of hair growing in a given area of scalp (called your Hair Mass Index or "HairNumber"). The HairCheck device is a very sensitive 'trichometer,' which measures hair caliber and hair density together in a single number. HairCheck can also measure hair breakage – another progressive condition that if left untreated can lead to further damage and hair loss.
ABOUT BAUMAN CERTIFIED HAIRCOACH:
Developed by renowned hair science expert Alan J. Bauman, M.D., Bauman Certified HairCoachMD is the first program of its kind in the world. Doctors and medical professionals (e.g. R.N.s, D.O.'s, M.D.s and others) are personally trained by Dr. Bauman at his Boca Raton clinic in the latest medical treatment options for hair loss patients including performing Platelet Rich Plasma (PRP) treatments, as well as early detection methods and cross-sectional hair bundle analysis using the patented HairCheck® trichometer.