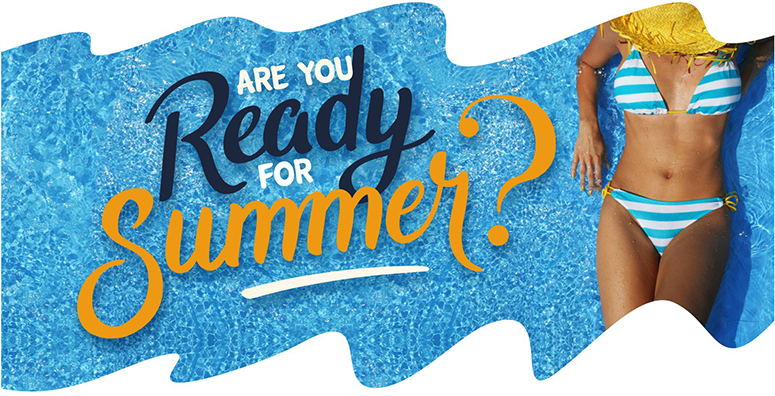 As summer is drawing near, the Aesthetics team at NMAC is happy to help you with those final 'Summer Body' touches. We have tips tricks and recommended regimens to keep you and your skin looking great all season! What are you waiting for? Check it out!

Get those stubborn areas in shape with Laser Lipo and Ultrasound Slimming and Radio Frequency skin tightening!
Lose up to 10 inches in 40-45 mins 2-4 times weekly. You can achieve amazing results so that you can wear that swimsuit in confidence!
SHHH your secret is safe with us!

| | | |
| --- | --- | --- |
| | | The Stress of it all can be more than overwhelming! That's why NMAC is offering 10% OFF of mediBac Clearing Kits and Clear Start Breakout Clearing Kits when you have a Dermalogica Signature Breakout Relief Facial. |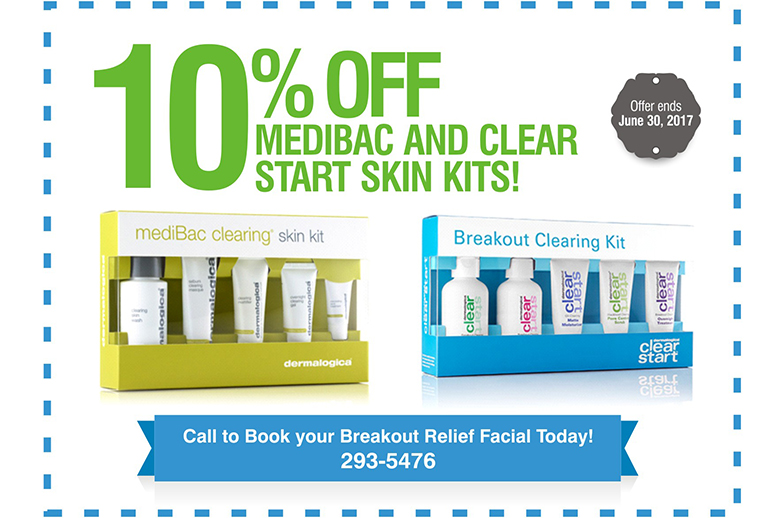 Here are 5 Important Tips about Sunscreen and how it benefits you!
1.
Yes, you really do need an SPF 30 or higher. The golden rule of sunscreen is now to choose a sun protection factor (SPF) of 30 or higher. 30 blocks out about 97 percent of UV rays, while SPF 15 blocks out only 93 percent. If you want to get really fancy (and we suggest you do!), use SPF 50, which blocks out 98 percent of UV rays!
| | |
| --- | --- |
| 2. | For total protection, look for "broad spectrum" on the label. |
| | |
| --- | --- |
| 3. | Don't be fooled! Darker skin tones need to cover up! Don't use your skin tone as an excuse to skip the SPF. Studies show that the darkest-toned skin is an SPF 13.4, while Caucasian skin comes in at around SPF 3.4. According to the FDA's final ruling in 2011, these numbers are not high enough for a sunscreen to be able to claim that it prevents sunburn, accelerated skin aging, or skin cancer |
| | |
| --- | --- |
| 4. | After two hours outside, reapply! |
| | |
| --- | --- |
| 5. | SPF numbers can be tricky. Do you really know what those digits to the right of the "SPF" labeling stands for? In theory, it's the amount of time you can stay in the sun without getting sunburned. For example, if you would normally burn after 10 minutes, a sunscreen with SPF 15 should allow you to stay out for 150 minutes before burning. "The intensity of the UV factors into it as does the time of day and the amount that is applied to the skin,". Bottom line: apply generously, and reapply often. |

Meet the Dermalogica Sun Protection Heavy Hitters!
Solar Defense Booster-For all skin types

Add critical UV defense to your moisturizer or foundation with this Broad Spectrum sunscreen for all skin conditions. Sophisticated, non-chalky formula forms an invisible shield against skin damaging environmental assault with Green Tea and Grape Seed extracts. Antioxidant vitamins C and E improve skin smoothness and softness while providing added defense against skin-aging free radicals. Apply directly to face and neck for full SPF50 coverage, or mix equal parts with your moisturizer or foundation to add critical defense against skin-aging UV light. Formulated without artificial fragrances and colors.
Oil Free Matte- For Acne Prone Skin types

Oil-free, Broad Spectrum sunscreen helps prevent shine on oily and breakout-prone skin. Lightweight, ultra-sheer formula contains an advanced blend of Zinc Gluconate, Caffeine, Niacinamide, Biotin and Yeast extract to help regulate oil production and soothe inflammation. Oil-absorbers help maintain an all-day matte finish, preventing shine without any powdery residue. Sheer formula provides optimum defense against skin-aging UV light. Formulated without artificial fragrances and colors.
Super Sensitive Shield- For Sensitive Skin types

Broad Spectrum sunscreen ideal for sensitized, reactive and recently resurfaced skin. Natural mineral sunscreens help shield against photodamage and UV exposure. Contains our exclusive UltraCalming™ Complex with Oat and botanical actives to help minimize discomfort, burning and itching. Sheer formula provides optimal hydration and helps protect and reinforce barrier lipids, which are often compromised in sensitized skin conditions. Formulated without artificial fragrances and colors.
Dynamic Skin recovery – For Mature Skin

Help minimize skin-aging triggers with this medium-weight, emollient daily moisturizer with Broad Spectrum SPF50. Antioxidant White Tea, rich in polyphenols, inhibits lipid peroxide formation and helps neutralize free radicals (ROS), Advanced Glycation End-Products (AGEs) and Matrix Metalloproteinases (MMPs). Patented Oleosome encapsulation technology boosts sunscreen effectiveness for critical protection against UV rays, while a unique polypeptide helps encourage collagen-producing activities. Blends smoothly over skin to create a perfected finish. Formulated without artificial fragrances, colors or parabens.
Protection 50 Sport- For all skin types

This sheer solar protection treatment defends against prolonged skin damage from UV light and environmental assault. Oleosome microspheres help enhance SPF performance and counteract moisture loss triggered by extended daylight exposure. Lightweight formula helps neutralize damage and bind moisture to skin without a greasy after-feel.
After Sun Repair- For all skin types

A cooling treatment balm to help remedy damage from exposure to UV sunlight. This lightweight gel helps calm skin and reduce irritation induced by sunburn.