With school back in session and
summer activities over,
September is about you!
Join our NMAC family for a relaxing
– LED Facial
– 60 Minute Massage
– 45 Minute Body Contour
For all our teachers who work hard throughout the school year and even during the summer months we want to honor you this month with a special spa treat. We look forward to you relaxing and rewarding yourself at Northshore Medical & Aesthetics Center in September!

LED Anti Aging Light Therapy
Light Emitting diodes (LED's) were first invented by NASA and were used to stimulate plant growth in space. LED's have since been proven to induce healthy skin cells to replicate faster, stimulate collagen production, and kill bacteria that can cause acne. We use LED's for anti-aging therapy, correcting pigmentation, healing acne and reversing the effects of sun damage. Incredibly relaxing lights deliver low, medium , and high LED light pulses to your skin, resulting in a smoother, healthier complexion.
Call 293-5476 today to book your LED Custom Anti Aging Facial.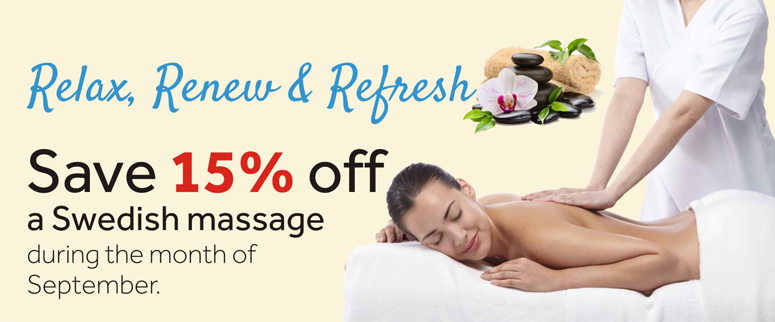 Health Benefits of Massage

•
Increased Circulation & Flexibility

•
Enhanced Sleep Quality

•
Greater Energy

•
Improved Concentration

•
Reduced Fatigue and Stress
•
Decreased Anxiety

•
Enhanced Immunity

•
Improve Body Motion

•
Relieves Tension Related Headaches

•
Reduces Heart Rate

•
Helps With Injury Rehabiliation
Call our office today to schedule your appointment.

Ultrasound Slimming
Remove Fat From Any Area:
•
Body Reshaping

•
Buttock Lifting

•
Fat Reducing

•
Cellulite Reducing

•
Skin Tightening
Radio Frequency Skin Tightening
Radio Frequency Sculpting offers impressive cellulite reduction, skin tightening, weight loss, wrinkle reduction, and skin rejuvenation. This body contouring or facial rejuvenation treatment is suitable for men and women.
*Clients can lose up to 2 inches in just one 45 minute treatment.
No diet on earth can do that.
Call 293-5476 or email yswan@nmac.bm to book your appointment today.
*Results may vary based on body type

Laser Lipo uses low levels of visible red laser light that simulates the body's natural process for releasing stored fat. This creates a safe and painless bio-stimulation effect in the targeted fat tissue. Laser Lipo compares to surgical liposuction and other Ultrasound or laser techniques. Fortunately, Laser Lipo is much more affordable with the same results.

Melt the fat away and say goodbye to your sagging double chin.
Special Pricing Ending Soon: $68 (Save 20%)

for the month of September. Starting Monday, September 5, 2016 you will be able to purchase and one of your favorite Spa Services. See below for day to day offers; note the specific days and service available: