Hello, it's Dr. Kyjuan Brown
February every year we raise awareness for the Global Heart Health Month.
We teach you every year that the very best things you can do for your heart are things like diet, exercise, weight management, and avoiding smoking. At NMAC, we encourage our patients to try regular exercise by walking, jogging, biking, swimming, or working up a sweat on the court or in the gym. Your heart will thank you for it.
Did you know that according to a recent study by doctors at John Hopkins University, simply doing those four things -- exercise, eat healthy, maintain a normal weight, and avoid smoking -- reduce your chance of death from all causes by a staggering 80 percent!
In addition to that, we also want you to consider this:
Don't be surprised at the connection between your heart health and your hair -- specifically if you're experiencing hair loss. A study published in the journal BMJ Open found that men with male pattern baldness had a 32 percent increased risk of developing heart disease. The risk was even higher for men under 55 who are balding.
Why is this happening?
As you may know, a major cause of male pattern baldness is elevated levels of the hormone dihydrotestosterone, or DHT. DHT can make your hair thinner and more brittle. It can shrink your hair follicles. And it can also make it take longer for your follicles to grow new hair once the old hairs fall out. Also, now researchers think DHT may also influence your risk for certain health conditions, including heart disease, high blood pressure, and even prostate cancer.
What are my solutions?
If you are concerned about your heart health the first thing you should do is contact me, your doctor so we can discuss. I can also refer you to a cardiologist if needed, please give us a call at 293-5476.
For your hair health, let me recommend three things:
First, to help control DHT I recommend the BaumanMD DHT-Control Shampoo & Conditioner Kit, available at NMAC.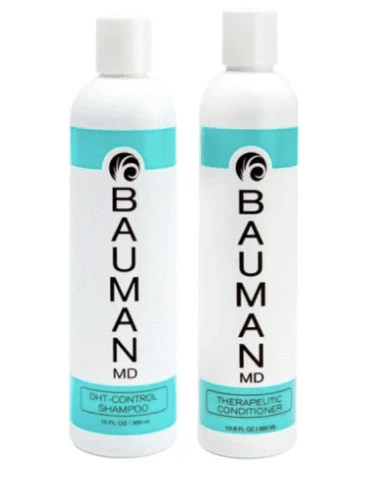 The BaumanMD DHT-Control Shampoo & Conditioner Kit combines our professional-grade shampoo and conditioner in one convenient package.
What's unique about this shampoo and conditioner?
It's formulated with green tea extracts, caffeine, and saw palmetto -- natural ingredients that have been shown to block the effects of DHT, the hormone that activates the hair loss process.
This shampoo and conditioner is specially formulated for thinning, transplanted or laser treated hair.
Secondly, in your aim to achieve healthy hair, I have created my special line of clinically proven hair formulas for excessive shedding, excessive perms, thinning and receding hair loss. My patients were tired of losing their hair and now they can experience healthy and strengthened hair with Dr Brown's range of hair products.
BUY FROM OUR NMAC OFFICE, THE MANY PHARMACIES, HAIR SALONS, BARBER SHOPS ACROSS BERMUDA OR
Thirdly, if you're experiencing hair loss, and you're ready to save your hair, I invite you to join me in a private hair consultation.
This consultation, available in-person, will help uncover the root cause of your hair loss. We'll look at all the solutions available to help you restore your hair or upgrade your look.
Since early detection is key to stopping male and female pattern hair loss in its tracks, doctors are often the first line of defense for many men and women. NorthShore Medical & Aesthetics Center was proud to be the first medical practice in Bermuda to complete a national training program for early hair loss detection and preventative treatment counseling. We are Certified by the Bauman HairCoachMD Training Program, led by renowned hair loss pioneer Doctor Alan J. Bauman. Our results have been amazing, see some Bermuda results below.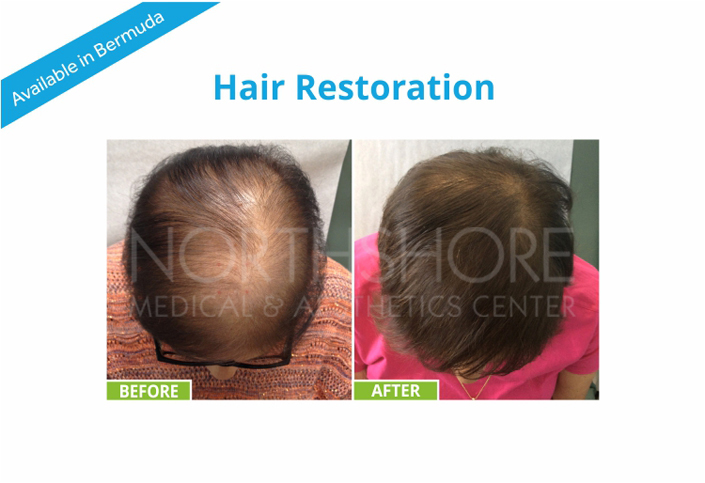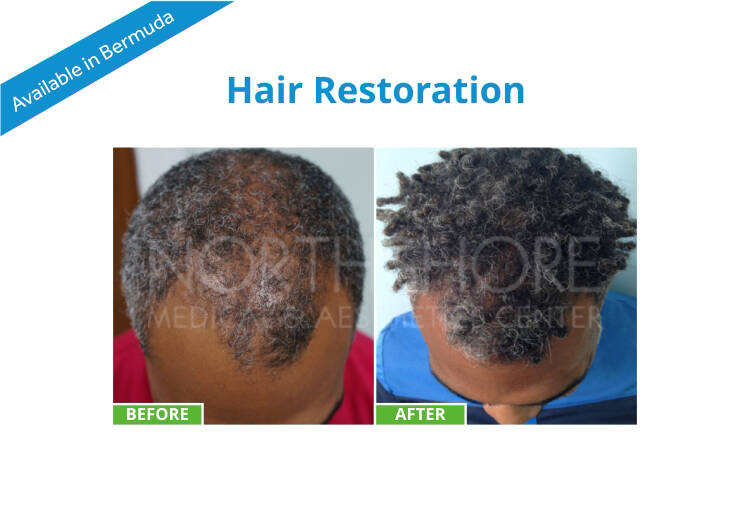 SEE MORE RESULTS HERE
Book your hair loss consultation now
Call us at 293-5476 to book your consultation by phone or email info@nmac.bm
Sincerely,
Dr. Kyjuan H. Brown
Medical Director of NorthShore Medical
Bauman Certified HairCoach