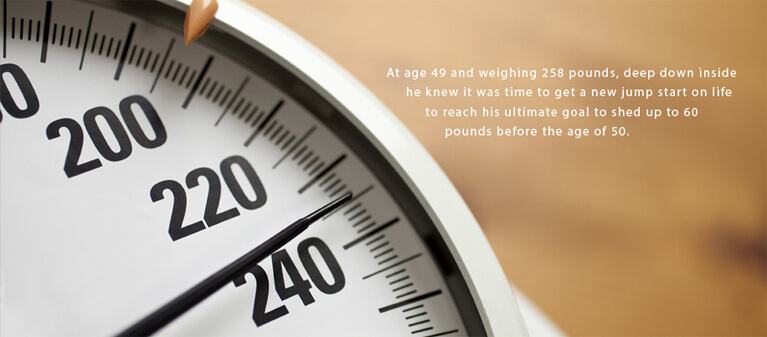 Northshore Medical & Aesthetics Center's lose 40 pounds in 40 days program.
When Scott Brown decided to sign up for a medical weight loss program his blood pressure was high and he was on the borderline to becoming a full-fledged diabetic.
At age 49 and weighing 258 pounds, deep down inside he knew it was time to get a new jump start on life to reach his ultimate goal to shed up to 60 pounds before the age of 50.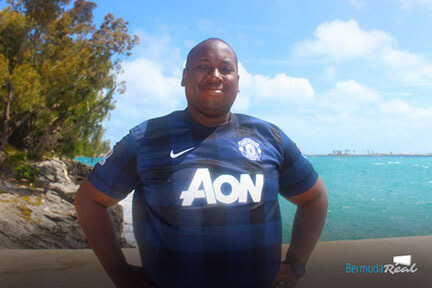 Scott Brown, who has shed several pounds during his weight loss program .
After a friend told him about the HCG Diet offered by the Northshore Medical & Aesthetics Center (NMAC), he went online to read more about it. "I read the testimonials, the program seemed sound and helpful," he said. So he signed up in March to lose 40 pounds in 40 days.
Halfway through he was well on his way, his blood pressure readings were normal and he was no longer a borderline diabetic. In 40 days he lost 32lbs with plans to drop another 30lbs.
By the time it ended on May 23 Scott weighed in at 228lbs. Now he's exercising twice a week to get below the 200lb mark, after Cup Match he will decide whether or not he do the HCG Diet again.
Developed in the 1950s, the HCG Diet requires daily hormone injections of Human Charionic Gonadotropin, a naturally occurring hormone found in pregnant women to "ensure proper nutrients to a developing baby".
HCG mobilizes the body's "stored fat into the bloodstream to be used as food which allows a person to subsist more on their stored fat than on what they eat". It also "triggers the body to provide a constant flow of food received from the fat that your body is breaking down".
According to the literature, "one pound of body fat stores up to 2,000 calories, once body fat is made fluid nutrition can be released to the bloodstream and reduce hunger".
Dairy products are eliminated and after loading up on fattening foods for the first two days, participants follow a strict diet of 500 calories a day; supplemented by multi-vitamins and minerals with morning HCG injections. There's also frequent 'apple days' when dieters eat six large apples within a 24-hour period and drink nothing but water.
Despite the use of a female hormone, ironically, men do better than women on the HCG Diet. Surprisingly there's minimal to no side effects for men who tend to lose more weight than women.
For Scott the transition wasn't easy. He experienced heavy sugar cravings for sweets and junk food, especially at night. "I was missing sugar a lot during the first week. Watching my colleagues at work eating whatever they had to eat around me was difficult as well," he said.
"I never felt weak I just felt irritable and I found that the cravings were worse around mid-afternoon and at night when I would snack the most."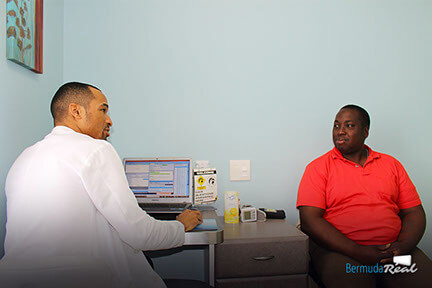 Scott Brown's consultation session with NMACs Health and Life Coach, Alex Dill.
Those issues were addressed weekly in the consultation sessions required with NMACs Health and Life Coach Alex Dill, who begins each session with a weigh in.
BermudaReal sat in on a session with Scott halfway through the program. On this day he admitted that he went off track the day before while celebrating his third wedding anniversary.
"I didn't have a starch, I was very good with that. I just had extra vegetables but the steak wasn't small, it was a big steak with steak sauce which has sugar in it as well with a glass of wine."
But he wasn't castigated for eating a large steak or for having a glass of wine. Instead Mr Dill said: "The main thing is knowing what to do when they go off track, and what to do the next day.
"If they go off track they do an apple day, the apples help to reset the weight and help with digestion. It's going to help with the release of water as well and help to reset that weight loss to get you back on track."
At this stage Scott had lost a total of 18.8 lbs at a steady rate and Mr Dill was pleased with his progress. "We're trying to lose weight the safe way, we don't want to overdo it or restrict you too much and you're still eating some normal balanced meals," he said.
Those meals include lean protein sources with a "good range of low calorie vegetables as well as some snacks". Fruits and vegetables are the main snacks with gluten free crackers and melba toast.
Scott basically stuck to apples for snacks. "I was on strawberries but I went to the store and strawberries were $12 a pack," he said. "They only had local strawberries and I was like I will stick with apples for now and call it a day."
Prior to the HCG Diet he said: "I would eat whatever, chips, chocolates, and all the sweet tooth stuff would do. Somebody told me the Old Dutch Chips are gluten free so I ate them as well."
The one thing stressed throughout the program is that sugar is the biggest hidden culprit when it comes to healthy diets. "These include processed foods as well so there's other things besides sugar that could be adding to our health conditions," said Mr Dill.
HCG dieters are encouraged to stay away from the high-end sugar fruits like grapes which are one of the highest natural sugar fruits on the glycemic index used as a guide for blood glucose or blood sugar levels.
Mr Dill noted that glycemic foods "give you sugar spikes and insulin spikes" . "Our bodies only need so much sugar at a time but when we go overboard what happens to the rest of the sugar?
"If our cells are not using that sugar to be used for energy the rest of it swims in your blood stream and does absolutely nothing. Some of it metabolises and turns into fat, over time as we eat medium to high glycemic foods we usually gain weight.
"Low glycemic foods are digested and broken down in a slower period of time so you can actually use it for energy throughout a longer period as opposed to high glycemic foods," he added.
"On average women lose about a half-a-pound-a day, men tend to lose about one pound a day. There's a difference as male bodies are a bit less complicated so they lose a bit more. It looks like he's losing about a pound a day.
"When we started Scott's blood pressure was 151 over 98 which is high, today he's 131 over 78. That's a tremendous drop and his weight loss has definitely contributed to that and he was pre-diabetic. By the end of the program he should be out of the pre-diabetic range and back into the normal range which is good."
Asked how the program has helped Scott replied: "Physically I feel better, my clothes fit nicely and my work pants feel a bit loose now. "I've gone from a 40 waist down to a 38 and I still have 36s in my closet. Right now the 38s are comfortable."
But more importantly he said the program taught him how to choose and maintain a healthy diet by avoiding extra sugar, salt, and other food additives.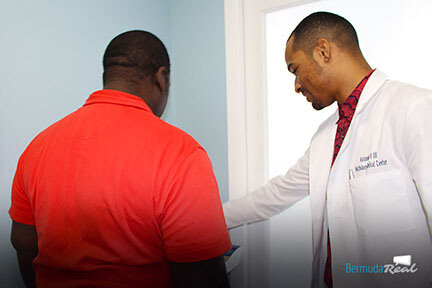 Scott Brown weighing in before commencing his program.
It was a big adjustment but now I'm looking at food labels and the recommended servings, especially with things like ketchup which has sugar in it. Your taste buds change so I don't need to have sauce, I can just eat my food plain so I definitely eat differently now."
When his waistline slimmed down he said: "The HCG injections started to sting a bit more. I was injecting the hormone virtually in the same areas around my waist every day and when I first started there was a lot more to just grab and stick."
He laughed when he said his "love handles were slimming down which is probably why the injections started to sting more" . "There's not much there now so I guess that's a good thing."
Apart from losing weight, Mr Dill stressed that the main goal is to change the dieters mind set on how to eat.
"With this diet you're eating natural whole foods and you're staying away from processed foods as well. Once they get into the flow of eating these foods they adapt and their taste buds change. They realize that they don't need processed foods, the sugars and salt as much as they used to," he said.
"If they continue to eat similar to what they've learned on the program they will be fine and they'll keep the weight off. After they finish we have a maintainance program where we teach them what foods they can introduce back into their lifestyle with exercise."
NMAC also offers natural weight loss programs without the use of hormones. But the high point for Mr Dill is the re-learning process on what we put in our mouths daily.
"You see that they're learning - they're actually paying attention to what's going in their mouths, and that's the important thing that we want them to get," said Mr Dill.
"When they finish the program they're educated, they're more aware and they're being mindul of what they're eating."
We'll take a look at the weight loss of a female HCG dieter in part two of this feature.